Include this in your perfect autumn feast
Ingredients:  
1 x duck breast
500g Wood chips for smoking
*6 x English Tea Shop's English breakfast tea bags
35g watercress
1 orange, or blood orange if in season
1 head of chicory
70g radicchio or castelfranco
70g rocket
30g pine nuts (toasted)
30g chopped hazelnut
150g of tenderstem broccoli
1 bunch flat leaf parsley, picked
6 radishes to garnish
Dressing:
Juice from the orange
1tsp sherry vinegar
3tsp good quality olive oil
Salt & pepper
Method:
Find a deep baking tray and a cooling rack that fits within the tray and can sit on the top of  the wood chips
Place the wood chips and tea leaves into the bottom of the baking tray
Score the fat on the duck breast
Place the baking tray on a BBQ or hob and let the wood chips catch fire gently so that it starts  to catch fire. Blow out the flames and place the duck breast, fat side up, on the cooling rack.  Cover the duck with a layer of baking paper and then cover the tray fully with foil making  sure no smoke can escape
Allow the duck breast to smoke for 10–15 minutes or until the fat is nicely coloured 6. Remove the duck breast, in a frying pan on the hob on a gentle heat render down the fat for  a further 10 minutes before finishing off in the oven at 160 for 5 minutes
Leave the duck breast to rest
Pan sear the tenderstem and leave aside
Toast the pine nuts on a gentle heat in a dry pan until brown, save some for the garnish 10. Chop the hazelnuts
Segment the orange and squeeze any juice into the dressing bowl
Make the dressing by mixing all the ingredients together in a bowl
Wash all the salad leaves and pick the parsley
Place all leaves in a bowl, mix through the nuts, orange segments and tenderstem 15. Slice the duck breast into strips and mix through the salad
Dress the salad, season to taste and mix thoroughly
Serve on a lovely plate and sprinkle over the pine nuts and thinly sliced radish to garnish
Enjoy!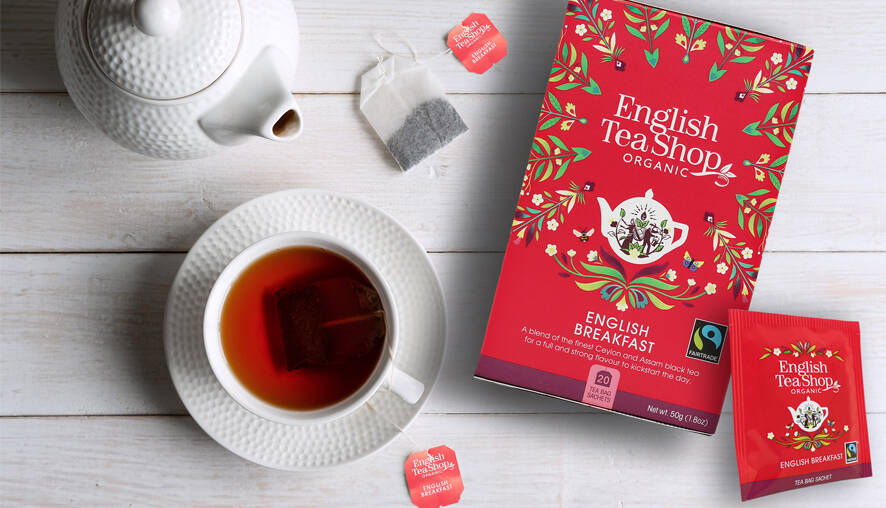 Learn more about our English Breakfast Tea
40+
countries enjoy our organic teas
2999
small farmers work directly with us
30%
employee-owned business
4680 acres
of organic land cultivation